New fixie road bike
My nice track bike commuter, beakham succumbed to a nice big crack a month or so back.
here is the replacement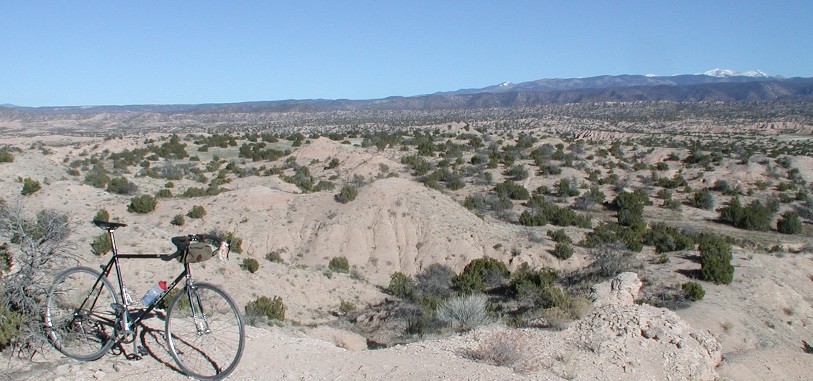 above from a single track ride 12/05
as of 12/05 I have about 1000 miles on this and really like it. The bars need some work still, maybe a scotch higher and a bit more up on the brakes, but it is really comfy. The 28mm all condition pro tires are GREAT! as much as I love michelin 23 and 25mm axial/carbon pro tires, they cut a bit easily offroad, the specialized all conditions pro seem to be cut proof, they roll well off road and roll well enough on road to use on the tuesday night time trials here in Los Alatoast.
I commute on it, with a 4 mile singletrack to fire road component often. I use it on smoother single track trails. I flop the wheel for a 48-16 for a very hilly time trial here, good good good good good.
PC-1 chain has held up pretty well, but is a bit noisy, I have a pimpy gold izumi waiting in the wings for the spring
Still do not like the arionne without bike shorts on, with shorts on it is pretty good. I think I need an aliante.
Below in fendered/coffeed commute format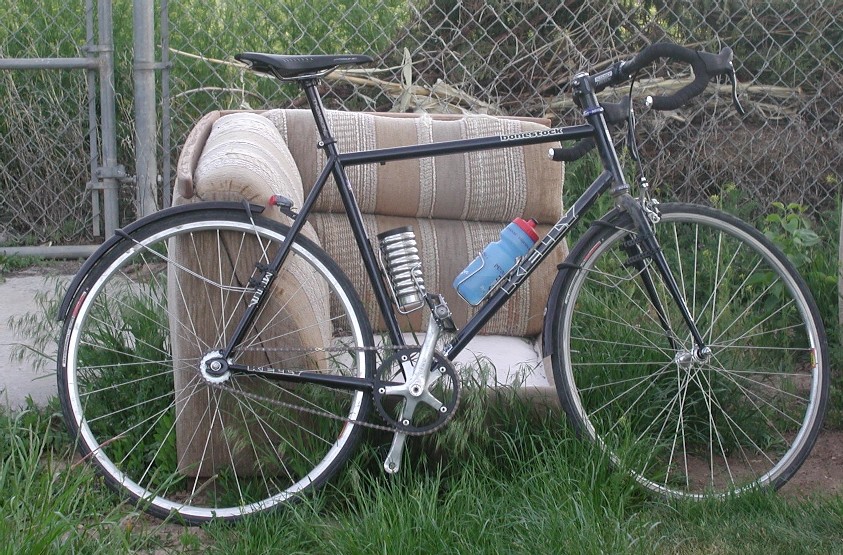 Two Pics from the maiden voyage in march: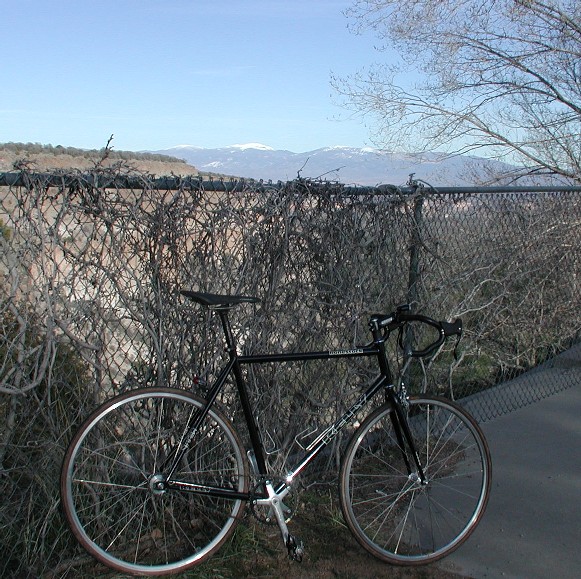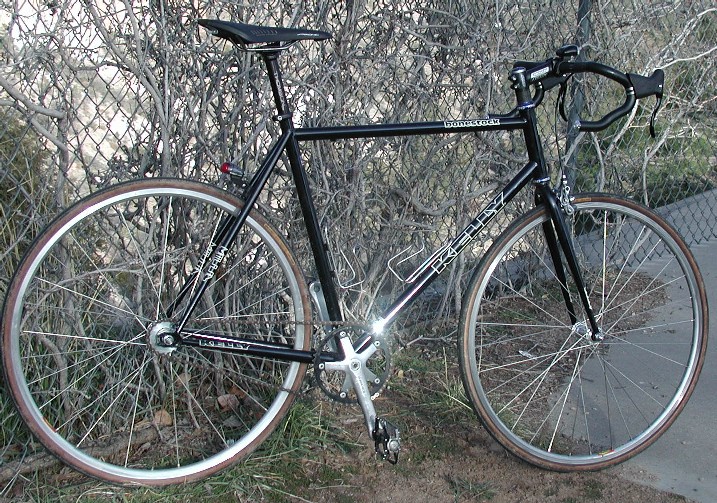 The short list:

Kelly Bonestock Single Speed Roadframe 59cm (small production run)
True Temper OX Platimum Tubes
Surly Single Speed Dropouts
Kelly Fork (1 1/8")
Beautiful DARK Blue with Subtle Sparkles Powder Coat
Ritchie BioMax bars, ritchy something stem
Cane Creek SR5 Brake Levers
King Head Set
Some Ritchie Stem
Old Superbe Pro Front Brake
Dura-Ace track gippetto (thats a joke): Hubs , bb, and 165mm Cranks
48-19 gearses for a 65 gear ratio, with a 48-16 on the flop for time trials
welgo BMX pedals with spd on one side. Great pedals!!!
openpro rims with 28mm specialized all condition sport tires
thompson post
Fizik Arione saddle
SRAM pC-1 chain
Planet Bike BRT-1 front and rear LED lights
cinelli tape
Race Blade fenders for wet commuting
First Ride impressions :
Woo!!! I felt fast and swoopy and fixtastic.
Maybe the bars need to go down a bit, I did not cut too much off the steer tube for the first ride.
Bike is tight and responsive and light and is a MUCH better match for the fancy dura-ace track stuff than the old one. Unbelievably different response to stomping on the pedals.
I may hate the arione saddle. Anyone want to trade me for an aliante? I LOVE the aliante on my road bike, maybe the arione is crooked, or something.
Somehow it seems to be ridiculously stable at low speeds no hands, even more so than my road bike, which is nominally the same geometry, just a bit more stretched out and lower bars...
Don't know if I trust the PC-1 chain. The connector seems extra cheezy compared to normal 1/8" chain connectors or compared to the SRAM 3/32" connectors.
New bike, new bike, new bike!!!
And I "discovered" that Los Alamos has a BMX track on the exploratory shakedown ride.
Woo!.
words and pics copyright 2005 Tarik Saleh
tsaleh at rocketmail dot com
3/27/05