my 1973 raleigh twenty
New photos as of 6/27/03
photos by Bill Milam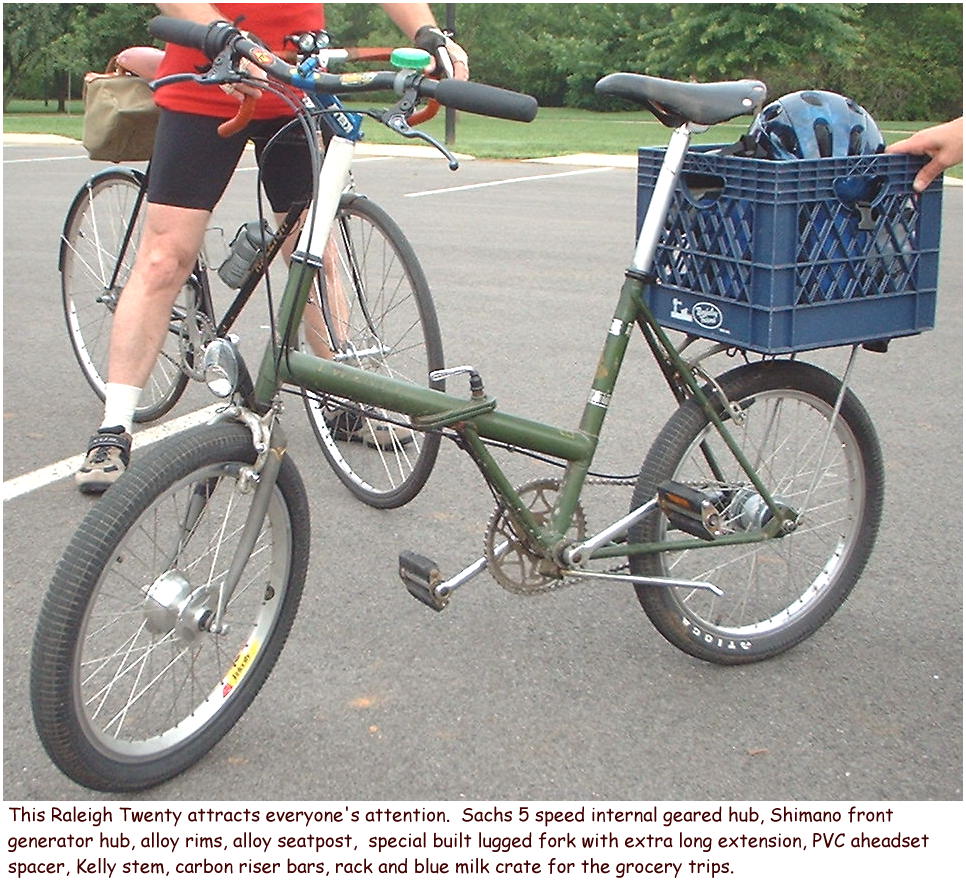 As the photo caption says:
Sram Spetro T5 rear hub, 20" rhino lite rear
Shimano Nexus generator front, velocity Taipan rim
lumotec oval light
Tioga Factory FS100 1.95 tires, up to 100psi and fat and SUPER grippy, roll GREAT
original bb and cranks
"proponent" alloy seatpost with regal saddle
original looong weinman brakes with new v brake pads
folding bike fork with ginormous steertube from matt houle
cane creek 1"threadless headset
Kelly Tigged Road stem flipped
Very nice bicycle grade schedule 40 pvc headset spacer
cut down carbon easton monkey lite bars (customer crunched a new pair putting bar ends on em)
incredibell jellibell
Old coda canti brake levers
Berkeley Farms milk crate (only ze best non bgh milk crate for the twenty) with salvaged ciussi elite cage and screw on reflectors all zip tied to the original rack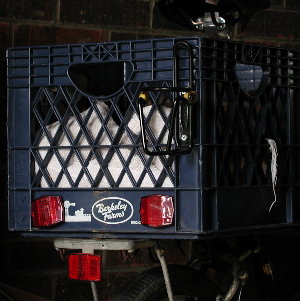 It rides Great. No hands, no problem at most speeds. Speed wobble at high speeds with no hands, might be due to slightly bodgy headsed spacer. New fork is lower so the cranks are fairly close to the ground, occasional pedal scrape. If I replace the BB, I will run 165 cranks.

Here is what is left to do:

Figure out fenders
Hack up the bianchi milano chainguard to fit
Make a steel headset spacer, perhaps with two water bottle cage mounts on it
Get some canti posts brazed on
repaint
maybe replace the cranks, maybe not...

Photos from a few months ago: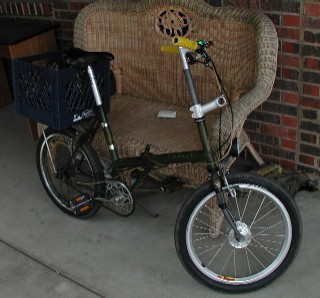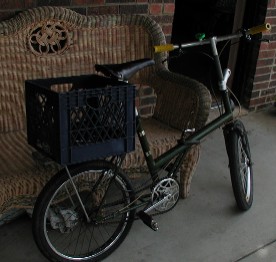 Green Ralleigh Twenty no longer stock.
Upgrades thus far:
New front fork
ahead set stem
Nexus generator hub front wheel
Lumotech headlight
arc bars
weird phallic lower stem is a temporary headset tensioning device
modern seatpost
cool milk crate basket zip tied on
Tioga 1.95 FactoryFS BMX tires (slick, fat, 100psi capable)
incredibell jellibell for bike path pedestrian warnage
Bike now rides great no hands and can clear the big tires. Stock fork was narrow, raked too much and sketchy as all get out. Remains to be done:
Replace rear SA/steel rim wheel with Sram 5 speed aluminum rimmed wheel (just built the wheel up)
fix the bodged stem tensioning method, replace quill stem with slightly longer aheadset stem
Maybe replace cranks and bb, but maybe not.
Hack up bianchi milano chainguard to fit
figure out some fenders

Here is a big'un of the front end: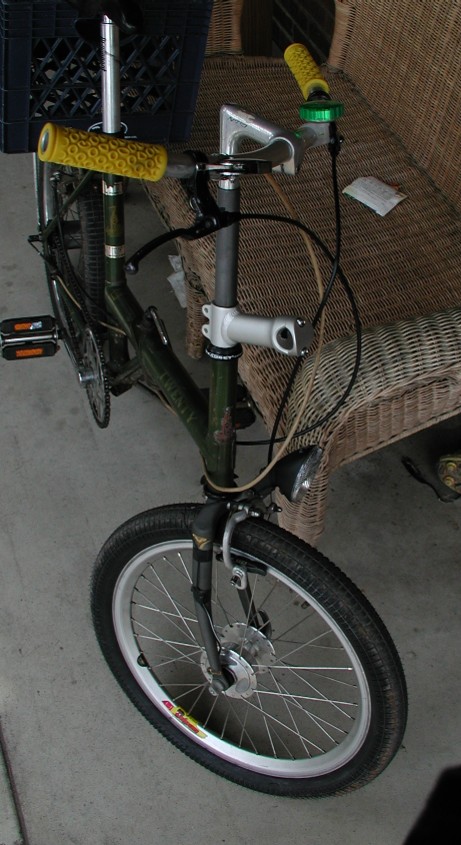 Words and photos copyright Tarik Saleh 2003 - tsaleh yat rocketmail dyot com