Flashy the wonder bike and her boy Tarik
a GENUINE garbage cruiser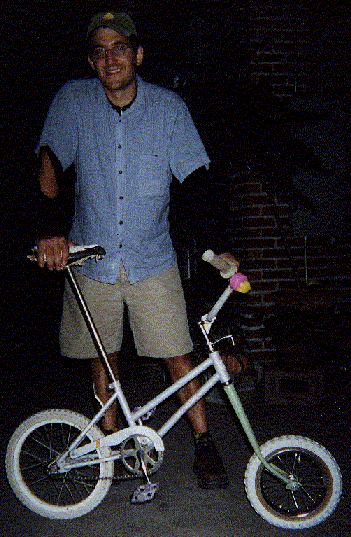 The amazing yet true tale of FLASHY the wonder bike:
Abandoned as a child in front of a dumpster at a warehouse live/work in the fruitvale district of oakland (there ain't no fruit there)
Seat badly chewed by large canine, possibly by the local heroin dealer's boxer
Wheels flat and chainguard bent, only hours away from a meeting with the garbage truck

WHEN
Local cyclist/garbage collector and compassionate individual, Tarik (boy), happened upon said object.

HE VOWED
he vowed to right this horrible wrong and make young flashy whole again

HE ALSO SPAKE
He spake unto the sky the people the clouds and trees:
"FLASHY, YE SHALL RIDE AGAIN"
and so she did....
an old 27" schwinn fork came from EVE, the roomate
a trip to alco scrap yielded a shiny stainless steel tube, as long, as straight and as true as a seatpost ever was
IN seattle, AT the archie mcphee store, A chance finding of $3, 10" 'tricycle' wheel
a tire and tube for said wheel PURCHASED on peidmont in oakland
a playskool spin the girl and make her ring bell from MacFrugals
To the workshop Tarik repaired and in due time he emerged....
HE EMERGED
he emerged with flashy the wonderbike, clean and fast and WOE...
WOE!
woe unto those who do not understand where their center of gravity lies
for she shall flip them as surely as I write these words
for she still bears the dog scarred seat as a reminder of her life on the streets and she never
NEVER
never forgets.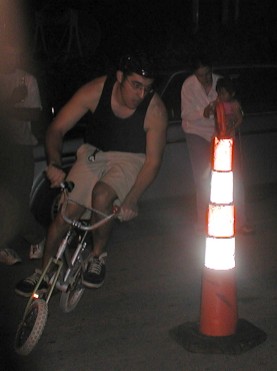 Return to the bike page words and pics copyright 2003 Tarik Saleh tsaleh at rocketmail dot com reposted 2/12/2007